We were proud to once again be a sponsor at last week's JSUnconf in Hamburg. The conference, that centers around the latest and greatest in JavaScript, is truly the "unconference" in both content and overall execution.
It's a completely non-profit conference built for the community, by the community.  As the event grows year over year, we've found that it's an incredible place for idea sharing, networking with other developers and sharing a positive contributions to the JavaScript ecosystem.
A few of the things that really stood out to us were:
A Focus on Environment
The conference organizers really stepped up in their efforts in their focus of the overall environment. We saw this literally in the form of reusable coffee mugs, but also figuratively in their code of conduct that encourages respect, leading by example and looking out for one another. Attendees are reminded to be always mindful, helpful and accommodating of cultural and personal differences.
Expanded Community with Diversity Scholarships
Scholarships were offered to diversify the attendees, making it possible for people to attend who otherwise might have not had the opportunity. A recent survey released by Stack Overflow revealed that 92 percent of software developers are men. The tech industry admittedly suffers from a lack of diversity and it was important for the conference organizers to bring together attendees from all backgrounds to share a variety of experiences and viewpoints. This program allowed for a greater range of perspectives and truly broadened the community.
@jsunconf Also massive thanks to everyone who made the diversity scholarships happen. I'm really grateful that I was able to attend!

— Claire Mitchell (@nofootnotes) 24. April 2016
already can see huge improvement over last year's diversity of attendees at @jsunconf! 👏 great work @chaupois & team 👏 #jsunconf

— michele with one L (@sheley) 23. April 2016
Attendees Pick the Content
You won't find a set speaker list or defined schedule in advance. Instead, any attendee can apply to speak on a topic that interests them. You could also propose a topic that interests you in hopes that a fellow attendee will be willing to share their knowledge. Votes are taken at the beginning of each day and the proposed "talks" with the most votes are selected.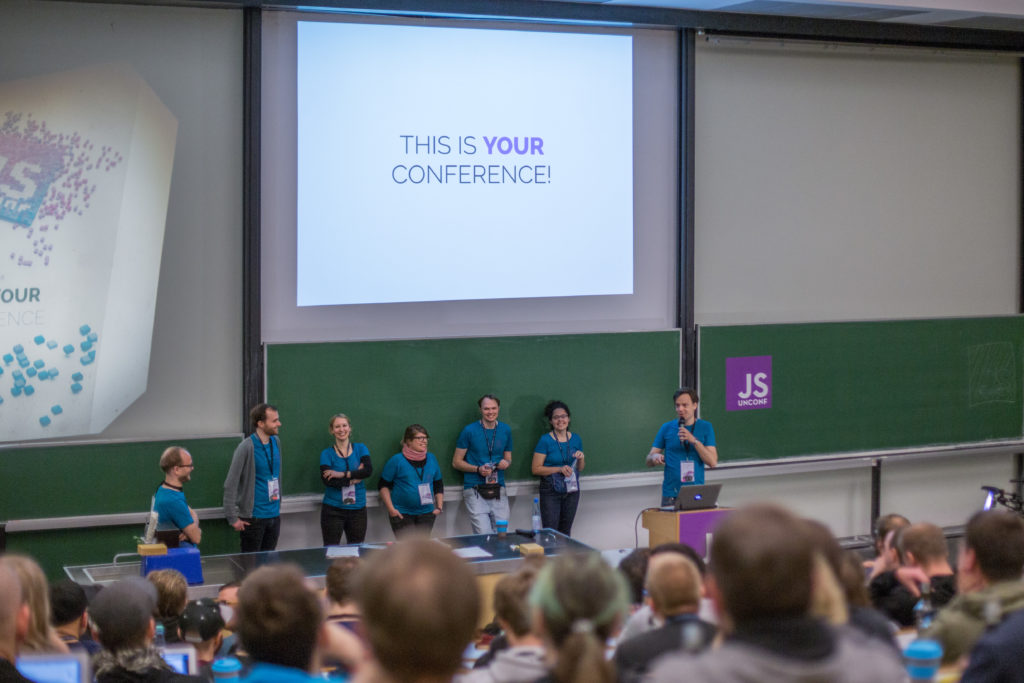 Even though it seems like a lot of talks are spontaneous, the quality of these is very high. Every year there are recurring topics with varying content like for audio (e.g. WebMIDI), video (e.g. WebGL), visualization (e.g. D3) and utilities (e.g. ServiceWorkers). The rise of functional programming didn't stop: There are talks about utility libraries like Ramda.js, general functional programming best practices and libraries like React which embrace functional paradigms. In general the number of talks about React and its ecosystem was large, whereas once popular frameworks like Angular had not enough demand for talks.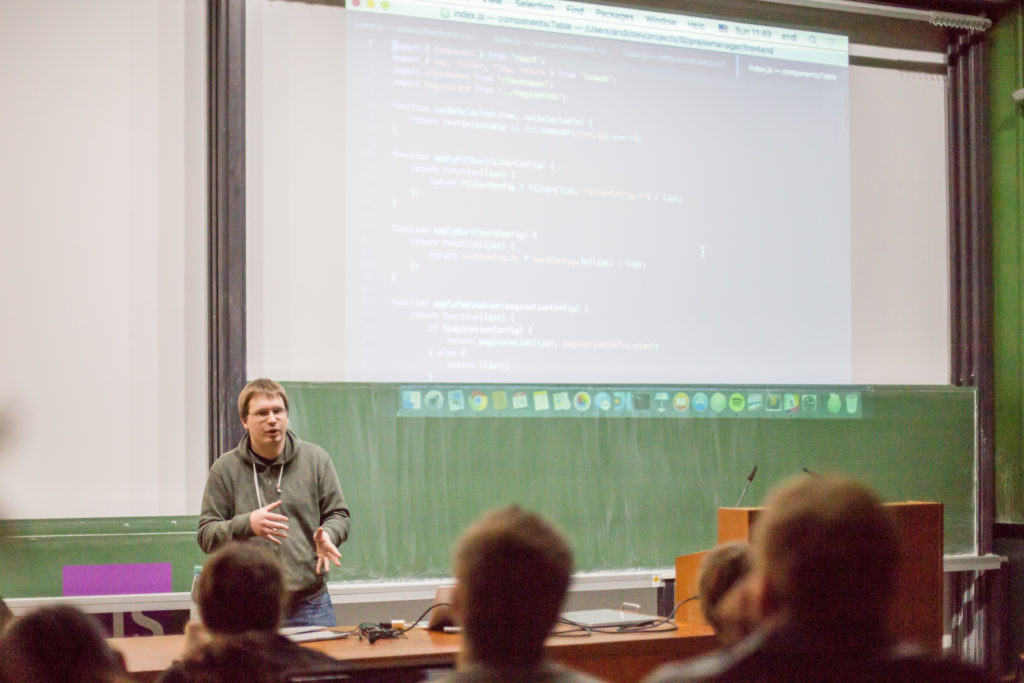 Since we use Angular JavaScript very heavily here at Small Improvements, our own developer, Andi Marek, delivered a presentation. He spoke about our story here at Small Improvements and how we came to the decision to migrate to React instead of Angular 2 in the future. There was so much creativity was represented in the attendees that an audience member drew up an artistic summary of Andi's talk that we later found on Twitter!

#JSUnconf pic.twitter.com/xghCDvgBNW
— Herr Bertling (@HerrBertling) 24. April 2016
In contrast to last year one could see some new topics to appear on the scene. Machine learning and Chatbots seem to be very popular among JavaScript developers. This might go hand in hand with the evolving functional programming adaptation and more and more math lovers joining the JavaScript developer population. Last but not least there were some more outstanding talks like "The 5 month journey from a destroyed city to becoming a JavaScript developer" by Rami Rihawi who told us his story as refugee coming from Aleppo and being a JavaScript developer in Berlin now.
Overall, we had an incredible time in Hamburg with the unconference community and are looking forward to staying in touch with the community as we continue to learn and innovate on our code!